A research paper co-authored by UNC Charlotte student and faculty researchers has been named the most influential research related to health care disparities for 2014, according to the Culture of Health Reader Poll by the Robert Wood Johnson Foundation, considered the largest philanthropic efforts devoted to public health.
"Por Nuestros Ojos: Understanding Social Determinants of Health through the Eyes of Youth," published by The Johns Hopkins University Press, details the use of Photovoice in a research project considering elements that influence a neighborhood's health. Project Muse also included the paper in its electronic journal collections.
Claire Schuch and Brisa Hernandez, who are pursuing doctoral degrees in geography and urban regional analysis at UNC Charlotte, are the lead authors. Other authors are Department of Geography and Earth Sciences faculty members Heather Smith, Ph.D., Janni Sorensen, Ph.D., and Owen Furuseth, Ph.D., along with Lacey Williams of the Latin American Coalition and Michael Dulin, MD and Ph.D., with the Department of Family Medicine at Carolinas HealthCare System.
For the inaugural Robert Wood Johnson Foundation poll, a panel of experts considered and chose research published in 2014 that highlighted the identification and elimination of disparities in health care. Throughout November, the foundation conducted an online poll asking Culture of Health readers to choose the most influential research effort from those identified. The readers ranked the UNC Charlotte study as the most influential in the nation.
The research team's paper documents the use of Photovoice as part of a broader research study considering data and models used to address socio-spatial determinants of health in at-risk neighborhoods. The larger study seeks to develop novel and innovative approaches to reduce health disparities and improve access to – and use of – primary care and preventive services, particularly among Hispanic immigrants.
With the Photovoice part of the work, Hispanic youth who were part of the Latin American Coalition's United 4 The Dream Program, were paired with UNC Charlotte undergraduate students in a neighborhood planning seminar taught by Sorensen. They were asked to take pictures of aspects of their neighborhoods that they believe affect community health and to explain what they were portraying.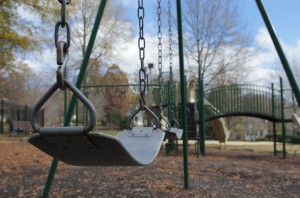 Negative factors included poor pedestrian access, trash and lack of property maintenance, water and air pollution, and evidence of gangs, criminal activity, and vagrancy, according to the paper. Positive features included public service infrastructure such as a fire station and schools and outdoor recreation.
"Photovoice is an integral component of our mixed-methods study because it reveals visual, perceptual, and contextual information about both neighborhoods and the communities within them that is often underrepresented or inadequately understood using more traditional research methods," the researchers indicated.
The information has yielded new insights into the everyday realities of the neighborhoods. It has caused greater awareness among the researchers that things usually considered assets could at times be seen as unsafe or unhealthy by residents. An example would be playgrounds, if they are poorly maintained and used by vagrants or gangs.
"This finding led researchers to consider how part of a health intervention may include forming groups that would walk together or play soccer together to "take back" the spaces that are currently used for activities viewed by the community as inappropriate or unhealthy," the study indicated.
In immediate impact, the work has influenced the development of nine Community Wellness Fairs and two community health groups.
The collaborative organization driving the work, the Mecklenburg Area Partnership for Primary Care Research, consists of healthcare providers, researchers and community organizations striving to improve healthcare access for underserved and vulnerable populations in Charlotte and Mecklenburg County. The network uses the principles of community-based participatory research to bring the community together to improve healthcare and the quality of life.
The core team includes researchers from Carolinas Healthcare System and from UNC Charlotte's Department of Geography and Earth Sciences, the Metropolitan Studies and Extended Academic Programs unit and the College of Health and Human Services. Charlotte's largest and oldest Hispanic service and advocacy organization, the Latin American Coalition, is a core collaborator through its United 4 The Dream program.
Pictured: Claire Schuch (left) with students involved with the Latin American Coalition
Words and playground image: Lynn Roberson, College Communications Director