Fighting Ebola in West Africa: The Charlotte Connection
| | |
| --- | --- |
| When | April 7, 2015, 06:30 PM |
| Where | UNC Charlotte Center City |
| Website | |
| Presenter | Debbie Eisenhut, Nancy and David Writebol |
| Registration Details & Deadlines | Reservations |
| Cost | $0.00 |
| Who is Invited | General Public |
| Parking Details | |
A medical professional and missionaries who have been central in the U.S. response to the Ebola virus crisis in West Africa will speak at UNC Charlotte Center City on Tuesday, April 7 at 6:30 p.m. in a free community conversation. This event was rescheduled from February due to inclement weather.
"Fighting Ebola in West Africa: The Charlotte Connection" will feature Dr. Debbie Eisenhut, SIM (Serving in Mission) surgeon with the ELWA Hospital in Liberia; Nancy Writebol, a SIM missionary and Ebola survivor; and her husband David Writebol, a SIM missionary.
Nancy Writebol contracted Ebola in the summer of 2014 when working as a volunteer in the ELWA Hospital. She was airlifted to the United States for medical treatment and has since recovered. Eisenhut is among the doctors who had responded to the crisis who were honored as TIME Person of the Year 2014.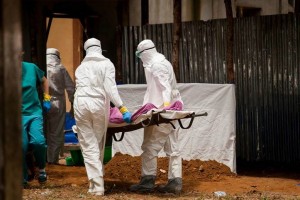 The event is hosted by UNC Charlotte Council on University Community and the African Studies Academy at UNC Charlotte. Reservations are requested for the talk, which will be followed by a reception. UNC Charlotte Center City is located at 320 East 9th Street. Upon registration, attendees will receive parking instructions via email; a limited number of parking passes will be available on a first-come, first-served basis at no cost for those who pre-register.
SIM is an international Christian mission organization with a staff of nearly 3,000 workers from over 50 countries serving in more than 65 nations. In addition to medicine, SIM serves on every continent in areas of education, community development, public health and Christian witness. While SIM stood for Sudan Interior Mission when it was founded 120 years ago, it is now a global mission known as SIM (pronounced S-I-M).
The Council on University Community, comprised of members of the Chancellor's Cabinet, is chaired by Provost Joan Lorden. The Council was given the charge of leading diversity efforts at UNC Charlotte, and advising the Chancellor of means to create and sustain an inclusive environment that values the presence of people with diverse backgrounds, experiences, and ideas. The Council spearheads initiatives that promote deeper understanding of diversity issues and that foster a sense of community among faculty, students, and staff.
Since 1993, the African Studies Academy at UNC Charlotte has sought to raise awareness and knowledge about the African continent, primarily by sponsoring three to five speakers each year. The Academy includes faculty, staff, and students from departments throughout the university. Participants have the opportunity to discuss topics at length and engage with one another in meaningful academic debate. The Academy also is building a community of scholars of Africa in the Charlotte area; recent events have attracted participants from several other local universities and from the broader public.
SIM Image used with permission.