In recognition of its innovative approach and focus on community research and action, UNC Charlotte's community psychology training program has received the Outstanding Program Award from an international psychological association.
The UNC Charlotte program earned the recognition this summer in Miami at the biennial conference of the Society for Community Research and Action – the American Psychological Association's Community Psychology Division. The society is devoted to advancing theory, research, and social action.
The award recognizes an exemplary undergraduate and/or graduate program that features innovative structures, strategies, and curricula that promote development of the field of community psychology and community research and action.
"The recognition of our community psychology training program highlights our focus on engaging the community through strong partnerships," said Fary Cachelin, chair of UNC Charlotte's Department of Psychology. "We are particularly intent on developing the knowledge and skills of our students in this program, while fulfilling our role as a community partner."
The cornerstone for UNC Charlotte's program is the community psychology Ph.D. program – part of the Health Psychology Doctoral program in the College of Liberal Arts & Sciences. Significant emphasis also is given to supporting community psychology education for students pursuing their master's and bachelor's degrees. Faculty members Jim Cook, Ryan Kilmer and Mason Haber lead the work; Virginia Gil-Rivas is director of the Health Psychology Ph.D. Program.
To engage students in applied community efforts, the program builds enduring partnerships with local and state organizations. These partnerships extend across many years, which leads to additional learning opportunities for students.
One partnership, with Thompson Child & Family Focus provides an example of the benefit to the students and the partners of these sustained relationships. UNC Charlotte faculty and students have helped Thompson develop the capacity to evaluate multiple programs and better serve families.
Rosa Underwood, Thompson's senior program officer for Prevention Services, describes the UNC Charlotte students and faculty as the embodiment of social justice. "We have enjoyed a deep and enduring relationship that has supported Thompson's calling to serve children and families in our community," Underwood said in a letter of support. "They have taught us how to appreciate and use data to better understand and improve the work we do."
Student Enthusiasm Carries Over
UNC Charlotte students' contagious enthusiasm carries over to the Thompson staff, including excitement over the data, she said. "Our gratitude goes to the faculty and staff for making us feel that we are an important part of their process," she said. "They solicit our opinions and ideas; encourage us to always ask questions; and incorporate our recommendations into their work."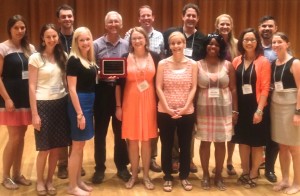 The Community Psychology Training Program admitted its first doctoral student in 2007. The doctoral program is interdisciplinary in nature, and focused on research and practice addressing health, health disparities, and healthy communities. In addition to core community psychology training, students gain breadth through coursework in health psychology and disciplines outside psychology, guided by interdisciplinary advisory and program committees. Graduates have become scholars in academic and research institutions, and leaders in local and national organizations.
For master's level students, the clinical/community program has offered community psychology training for over 30 years. Beginning in 2014, the program has shifted to admission of students only for community psychology master's degree training.
Graduate students participate in applied assistantships to gain experience in program evaluation, consultation and applied research. Each graduate student also becomes a member of one or more research teams, integrating research and service in applied community projects.
The community psychology training program also has provided undergraduate coursework and supported undergraduates in applied research for over 30 years. Undergraduates work on research teams with graduate students and faculty.
Class work includes an emphasis on partnerships with local organizations; learning about applied research design, program evaluation and grant proposal development; and other work that is action-oriented. Students gain a broad background in health issues and a breadth of expertise in communication studies, geography and urban planning, public policy, and qualitative and quantitative methods.
The department supports the undergraduate Community Psychology Learning Community, designed to help transfer students or students who learn about the field of community psychology as juniors or seniors. Approximately 50 percent of the 1,000 psychology majors are transfer students.
Students Demonstrate Excellence
Since 2008, 32 different students in community psychology have authored 58 professional presentations at regional, national, and international conferences, with 21 students earning authorship on more than one presentation and nine earning authorship on six or more, and 22 different students served as first author of 43 of those presentations.
In addition, students have published in professional journals, with seven students earning authorship on nine peer-reviewed articles. Four students were first authors of six of those works. Five students have earned authorship on two or more papers, and three have done so on five or more articles.
Recent applied research projects have included:
Evaluating a publicly funded pre-kindergarten program;
Evaluating "On Ramp," and "Transition Mentoring," programs providing services and support to assist youth with mental health challenges in transitioning to adulthood, including a resource center, intensive case management services and statewide training and workshops;
Providing evaluation and applied research with consumer-operated mental health recovery and advocacy programs, including programs for youth and young adults, families and adult mental health consumers;
Evaluating MeckCARES, a system of care for children with severe emotional disturbances and their families;
Evaluating a school–multi-agency partnership to address the needs of children and families in an impoverished neighborhood, and helping to plan and support the initiative;
Assessing the impact of "family partners" who provide support for families involved with child protective services;
Using data to guide supportive "wraparound" processes for families living in public housing developments; and
Evaluating a parent education program.